justjohanna Earth Day challenge!
Here is your mission, should you choose to accept it (this will not self destruct in 10 seconds so don't worry)...create something (a card, journal page, whatever) using any of my Earth Day challenges below.
To win all you need to do is post a comment with a link back to your blog or gallery. If you don't have a gallery, please feel free to post on the justjohanna forum and post under the Earth Day thread.
You have 24 hours to enter the challenge and then I'll draw winners:
One participant will win a Limited Edition Earth Day stamp from justjohanna (designed by one of my favorite stampers - Rina!)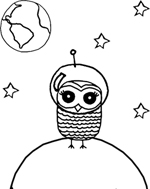 AND two participants will win a justjohanna stamp from my collection and some ribbon from my my etsy shop.
AND all of you will be entered into a drawing for one of the following prizes: $250 justjohanna shopping spree, a $50 shopping spree, or a 25% discount coupon. Wow ~ free stuff is cool.
Now onto the 1st challenge...
Honor Nature by using it in your Art ~ I created a simple card using a twig to make flowers.
Re-purpose items like one of those fake credit card offers you get in the mail everyday ~ it makes a great paint tool! Golden gel medium is the perfect adhesive for bulky items, just gloop some on and it dries clear!
And for my 2nd challenge...
Reduce Waste & Re-Purpose Items for Art ~ Looks like trash huh? It's one of those plastic net bags fruit comes in.
With it I made this & this:
I cut the netting, added some shimmery paint and used gel medium as the adhesive. So easy!
Paint & stamp the back of the tag and it makes a great ribbon embellishment.
And of course everyone loves bottle cap magnets:
Now go make something and don't forget to leave me a link! ;)